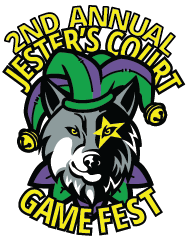 EVENT CANCELLED — Wizards! World Builders! Tabletop Titans!
Step into the magical world of Jester's Court GameFest!
Dec. 2, 2023 at HM Jackson High in Mill Creek WA.
Join us for an epic game day featuring Magic The Gathering, Catan, and more. Showcase your skills and win big in the Magic and Catan tournaments for $1K+ in cash prizes!
—OR—
Come for a day of family fun with tons of tabletop games to try. Sign up for D&D one-shot campaigns and a chance to drive a robot.
Stay to play all day – we've got you covered with delicious snacks and treats at our concession stand — including Italian sodas!
Open to the Public! All proceeds benefit Jackson High Robotics / FRC Team 2910: Jack in the Bot.