2022 PNW Block Party is a Wrap! Watch this space for 2023!
After a successful first event in 2021, Team 2910: Jack in the Bot is excited to host PNW Block Party again this year! PNW Block Party will be a two-day FRC event on October 29th-30th, 2022 at Henry M. Jackson High School in Mill Creek, WA.
We will be playing the 2022 FRC game RAPID REACT with the real FRC field. Teams will have a pit with power, a full set of qualification matches, alliance selections, and playoffs. We will be using the 2022 RAPID REACT rules.
Registration is now closed! 
For late registration inquiries, please email Kyle Pihl. We have 25 robots and are planning on 10' x 10' pits for each robot. The registration fee is $300. Teams may register a second robot for $100.
Volunteers Needed!
If you are interested in volunteering at PNW Block Party, please click below and fill out the Volunteer form. If you are a frequent volunteer in the PNW, please check for emails from Mara at FIRST Washington.
2022 PNW Block Party T-shirts
PRE-SALES HAVE CLOSED — There may be a limited number of shirts available at the event.
Super soft washed 100% cotton in medium gray with the event logo on the chest in purple. Online sales only for pick up at the event only. Apologies but shipping is not available. Shirts are $25 each and available in a range of sizes.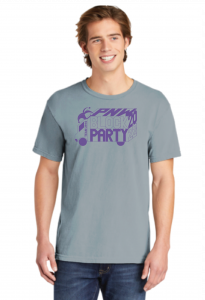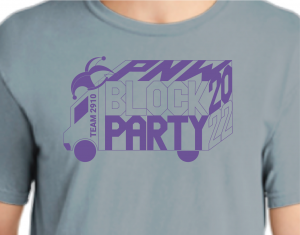 Registered to Participate:
| | |
| --- | --- |
| 360: The Revolution | 2990: Hotwire |
| 948: NRG (Newport Robotics Group) | 3663: CPR – Cedar Park Robotics |
| 1294: Pack of Parts | 4512: Otter Chaos |
| 1318: Issaquah Robotics Society (IRS) | 4682: CyBears |
| 1425: Error Code Xero | 4911: CyberKnights |
| 1778: Chill Out | 5937: MI-Robotics |
| 1899: Saints Robotics | 5941: Cast Iron Orcas |
| 2046: Bear Metal | 6350: Clawbots |
| 2522: Royal Robotics | 6390: Hephaestus |
| 2557: SOTAbots | 7461: Sushi Squad |
| 2910: Jack in the Bot | 4682-2: CyBears 2 |
| 2930: Sonic Squirrels | 4911-2: CyberKnights 2 |
| | 5937-2: MI-Robotics 2 |
| | |
Tentative Schedule of Events
This schedule is preliminary and subject to change. Please check back closer to the event for a final schedule (updated 10/25/22)
Some Helpful Things:
Friday, October 28
Sunday, October 30
5 PM – 11 PM: Field Setup
9 AM: Doors Open
Saturday, October 29
10 AM: Qualification Matches Resume
8 AM: Doors Open, Pit Setup
11 AM: Alliance Selection
10 AM: Practice Matches
11:30 AM – 12:30 PM: Lunch
11 AM: Qualifying Matches Begin
12:30 PM – 3:30 PM: Elimination Matches
Noon – 1 PM: Lunch
3:30 PM – 4:00 PM: Awards Presentation
1 PM – 6 PM: Qualifying Matches
4 PM – 7 PM: Load out and Field Tear Down
6:30 PM: Venue Closes

Pits will have overnight power
Trailers may be left in designated parking area
FAQs:
If we bring two robots will we have to share a pit or can we have an adjacent pit?
ANSWER: We will provide an adjacent pit for your second robot.
What is the food situation?
ANSWER: There will be some concessions available, such as water, soda, candy, and snacks, but nothing more substantial. Nearby restaurants and markets